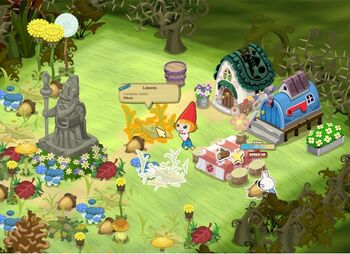 The Enchanted Forest is the main location of GnomeTown. However, it has been taken over by the Evil Gnome whom has captured the critters of the forest.
The Enchanted Forest is now covered in thick vegetation in which the player may cut down using machetes to expand their town. Upon chopping down the vines and thorns, the player may encounter strange and mysterious objects that have been lost since the forest has overgrown. They may also discover cages that trap critters of the forest in which they can be freed.
The Enchanted Forest gradually builds up debris that generally need to be cleared. Helpers can clear debris and help keep the town clean.
Community content is available under
CC-BY-SA
unless otherwise noted.