Description
Edit
The Daily Bonus is a feature that rewards players for playing every day. It appears as a Daily Bonus icon on the left side of the screen with the quests, and when clicked, shows which bonus is to be received for that day. Each day, the reward increases in value, and on the 5th day, the highest reward is given. After the 5th day, the counter is reset, so that on the 6th day, players are given the Day 1 reward again.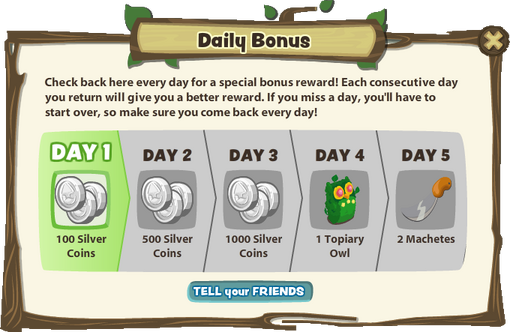 Mystery Gift
Edit

First reported on 6th October 2011, the Mystery Gift replaces the 2 Machetes reward on the 5th day. It appears in the players'
inventory
.
On opening the Mystery Gift, you are rewarded with either Silver Coins, Wood, Food, a Scarecrow or a Machete.
The Daily Bonus currently appears to be a rolling test feature. It is offered to random players for a short period of time. It is not unusual for a player to suddenly 'lose' the Daily Bonus feature, or for a player who has never had it, to find that they now have it. Generally each player will be able to use the feature for about a week, although some players have reported anything from 4 days to 10 days.
It is not known when the test period will end.
Community content is available under
CC-BY-SA
unless otherwise noted.