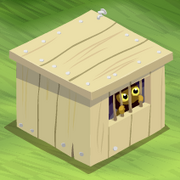 A cage entraps a critter due to the evil clutches of the Evil Gnome. Upon exploring the Enchanted Forest, the player may come across a cage. To release the critter, click on the cage.
Some cages will need staffing in order to release the critter. The player may staff neighbors or use gold bars to staff Wise Old Gnome.
Community content is available under
CC-BY-SA
unless otherwise noted.